En el caso de tener licencias enterprise plus, los perfiles de servidor nos ayudan a mantener todas las configuraciones iguales de los servidores.
En nuestro caso, usamos siempre  un servidor de referencia. Cuando se hacen cambios sobre la configuración, por ejemplo, de red
Configurar la nueva red en el servidor de referencia
Probar
Aplicar host profile en todos los servidores Esxi.
El problema empieza a aparecer cuando tenemos servidores diferentes, con distintos componentes físicos.
Desde el update 2 de vcenter 6, por algún motivo, han decidido que el idioma del teclado fija también el idioma del interfaz, lo que nos complica un poco la vida al buscar ayuda.
En nuestro caso, el error de hbas es:
Faltan dispositivos PCI 2 vmhba en su host que son requeridos por el perfil. El modelo de host puede ser diferente del host de referencia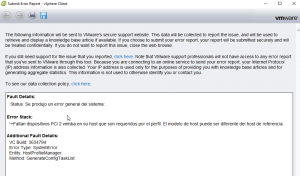 En inglés, el error es:
Your host is missing 2 vmnic PCI devices required by the profile. Your host model may be different from the reference host
Está ya reportado en Vmware Knowledge Base.
En nuestro caso, hemos tenido que deshabilitar dos apartados completos de los perfiles:
Device alias configuration
Storage configuration